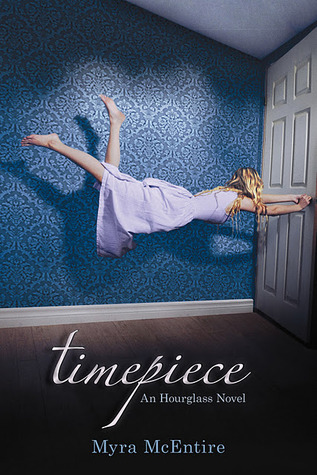 Timepiece
by Myra McEntire
Hourglass Novel #2
My Summary:
Dealing with the backlash of Emerson saving his father's life, Kaleb tries not to fall back to drinking to keep the emotions of others at bay. A new threat emerges as a man who calls himself Poe tells Kaleb those with Hourglass need to find Poe or risk their timeline being reset against their interests. The only thing that makes the prospect of finding Jack less awful is that it means Kaleb needs to spend as much time with Emerson's best friend Lily as possible.
My Review:
I was a little worried when I started this book. In Hourglass, I was not a fan of Kaleb. And whenever the narrative changes POV between two books, I get nervous. I shouldn't have been. Myra managed to take a character who rubbed me the wrong way in the first book and make him a protagonist I not only enjoyed reading, but actually cared about by the end.
The escalation of the plot from the first novel was perfect. Not a repeat of the last one, and not a leap so far distant I worried we'd taken a step off the deep end.
Jack's involvement in this books plot was much like it was in the first. He's kind of there, but almost untouchable. I do appreciate the ambiguity of the new villain(s) in this book. It's a "don't know who to trust" situation and that felt so perfectly real to me. There was one random moment with Cat that I think.... should have been left out? or she should have been in the book a tiny bit more. It felt very thrown-in.
Some of the secondary characters needed a bit more of a reintroduction than they got. It was pretty clear that Dune was going to be the protagonist of the next book... but I didn't really remember who he was without some help (from outside the text of the book).
I love the idea of the rips... I want to live in this town, have the time gene and just sit on a park bench and watch history repeat itself.
Expect a review of the final book soon!