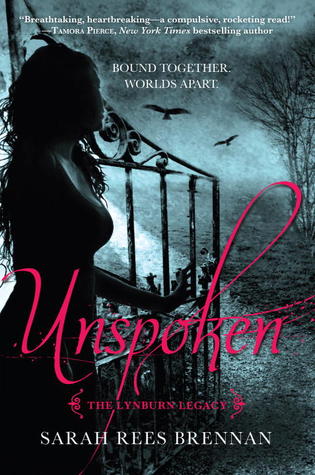 Unspoken
by Sarah Rees Breenan
My Summary:
Kami Glass has always had an imaginary friend, but she doesn't talk about him anymore. Her idyllic town of Sorry-in-the-Vale is already a place she stands out but is accepted as the quarter Japanese daughter of one of their own. As the founder and editor-in-chief of her schools newspaper, she's determined to get to the bottom of her home's secrets and the family that's returned after a long absence… a family whose name is whispered in fear and anger… a family to which her not-so-imaginary friend belongs.
My Review:
As a fan of sleuth things (Miss Marple is a kindred spirit), I waited to read this novel for two reasons:
1 – A trusted reader-friend told me I'd want to pick up the second book right away.
2 – After the cover changes that happened with the Demon's Lexicon series, I didn't trust the original hard back cover – I was right – and I prefer my Series to have complimentary covers all the way through if I can help it.
I enjoyed this book immensely, however I didn't see what the fuss was over the ending (I won't spoil it. If you know, you know). But then, I knew about it walking in, and I expected as much from SRB. I was pleased that – while it does have a bit of an open ending – it's not the sort of book that forces you to get the next book to finish the narrative of the first. It leads into book two nicely.
The secondary characters were probably my favorite part of this book. Angela was certainly my favorite, but they were all a treat. And I greatly appreciated that they had realistic opinions about "this guy who seems suddenly obsessed with our friend" and that they expressed those opinions. Friends having friends backs: the stuff life should be made of.
It was a nice break from the more serious tones of things I've been reading lately, and really should come with a "Beware: Imminent Death by Laughing" warning. Okay, it's not that funny, but it did make me smile like an idiot at times.
The addition

of magical elements from Kami's heritage was… a little underwhelming. I really would have loved to see that expanded upon. As it was, they felt a little thrown in and I wanted more.
The reveal at the end was not as easily guessed as I thought it would be. I had two of the components figured out, but not the whole. That is always nice.